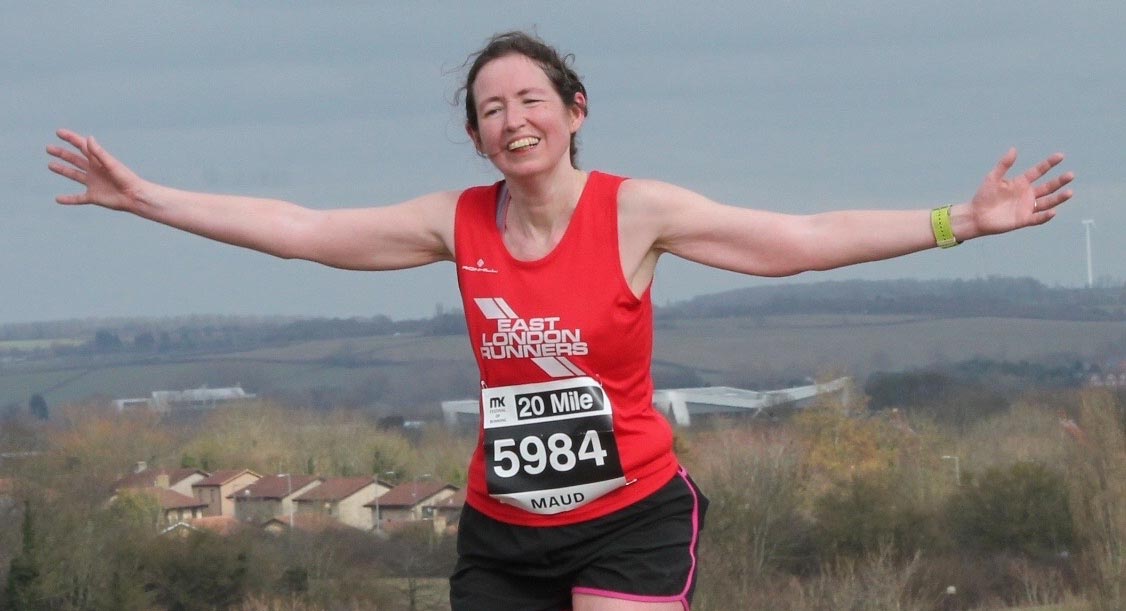 There is always one more mile to run for equality as Maud Hodson shows with her activism, words and practice of running.
Maud is 46 years old and lives in London with her husband, two teenage sons and her dog. She works in classical music publishing, and in her spare time performs on cello, violin and trombone. She started running quite late in life, and five years ago joined East London Runners. She will run any distance from 60 metres to 100 kilometres or more, and has ambitions to try decathlon one day.
1. Why do you run? and why cross country running?
I run for many reasons. Sometimes I love to go out by myself and be alone with my thoughts, at other times I like to run with my friends. I like to challenge myself - while I will never be a fast runner, the thrill of running a PB is one of the best feelings I know. And I love to run in beautiful scenery - entering races is a great way to see new places. And I like the fact that I am fitter and stronger now in my 40s than I ever was when I was younger.
Cross country is always a challenge - there will nearly always be hills and mud, sometimes snow and ice too. The tougher the course, the satisfying it is. In the UK, cross country is very much a club sport, and I love to represent my club.
2. Why do you think it is important the equality among men and women in cross country races?
Men and women race the same distances on the roads and on the track, so it makes no sense for it to be any different for cross country. Until 1984 women didn?t run more than 1500m at the Olympics, but while that has now changed, cross country remains stuck. In the UK, men?s races are often 50% longer than women?s - as if while the men ran a marathon, the women just ran 28K. We wouldn?t stand for that.
The message that this inequality gives to young athletes is toxic, for both boys and girls. Our daughters should grow up believing that they can take on the same challenges as the boys, not a watered-down version. And our sons must grow up to share the sporting stage equally with the girls.
Usually the senior men?s race is the last event of the day, and the longest, so it is hard not to see it has the biggest event.
Some progress has been made, but it is patchy. The IAAF World Championships are equal distances for men and women, but the European Champs are not. In the UK, the Scottish Nationals Champs are equal, but the English are not. 
3. What do you think about the effort of a Fortuna Sport Club that wants to get more women involved in running?  
I think this a great initiative, that will benefit the race as well as the wider community. And the next generation of girls will see their mums, aunties etc. taking part, and hopefully they will be inspired to run too.