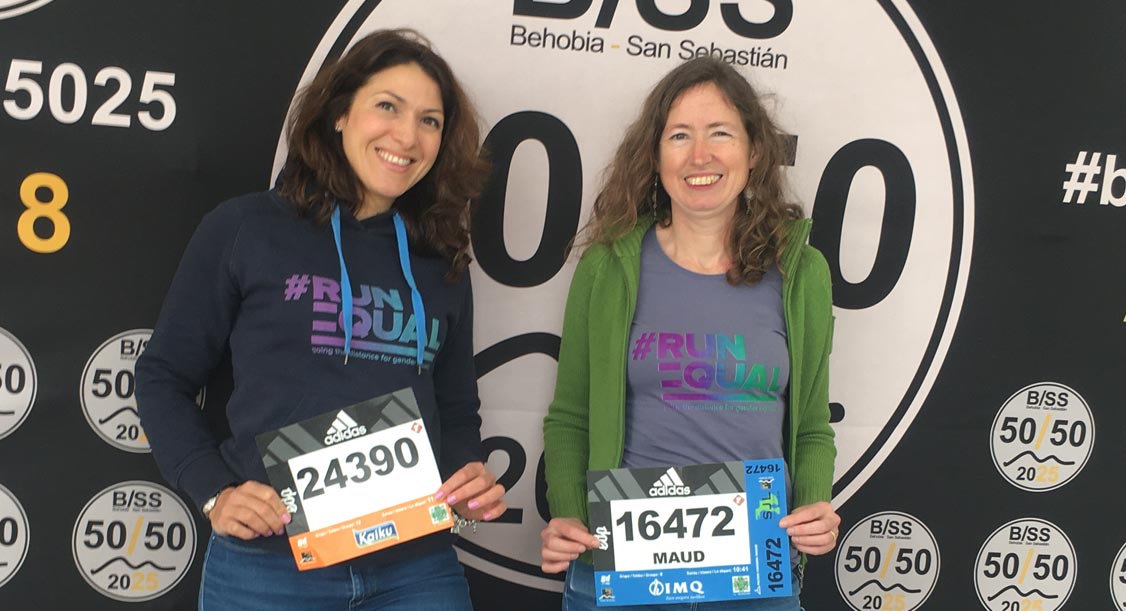 One of the lines set within the BSS 50/50/25 project is the visibility of women in the race, but also the recognition of those that during the recent history of The Behobia have been protagonists. Thus, in the finish line we set out to pay homage to Rosa Luena for her 31 Behobias in a row, Esther Estefanía and Lourdes Alonso for their more than 25 editions and Krux Guridi for her many participations and support to so many women in their first steps.
Visit of Maud Hodson  #runequal
We have also followed the path we set out in 2018 with Kathrine Switzer and in 2019 we counted in The Behobia with the English runner Maud Hodson, promoter of the campaign #runequal who, in addition to taking part in the race, offered a conference at DeustoForum on the Monday after the race.
Conference Maud Hodson
An Accidental Campaigner
When I was invited to come to San Sebastian to take part in the centenary edition of the Behobia-San Sebastian race, and to come to Deusto University to give this talk, I was both honoured and rather nervous. It is an amazing to thing to feel that you are following in the footsteps of one of your heroes, and ever since I read about Kathrine Switzer's story she has been a role model for me. I admire her courage, determination, brains & tactical skill, and am deeply grateful for what she has done for women's running.
About #runequal
I don't think Kathrine ever set out to be a gender equality campaigner. She wanted to run the Boston Marathon, and saw no reason why she should be prevented from doing so because she was a woman. And having done that, she took on the responsibility of making it possible for any woman to take part in distance running, from elite athletes to recreational runners.
I never set out to be a campaigner either. I thought that compared to many other sports, athletics has pretty good parity between the genders, both in terms of the events open to them, and the rewards for professional athletes. In track and field, with the exception of heptathlon/decathlon, men and women compete in the same events. On the roads, again with very few exceptions, men and women race the same events, usually running together. Marathon running has become incredibly popular amongst runners of all abilities, all ages and all genders.
It was only when I joined a running club in 2013 and started taking part in cross-country events that I realised there was still work to be done. I was surprised and disappointed to find that in the vast majority of events, both leagues and championships, the men's race would be longer than the women's. Often as much as 50% longer, and occasionally nearly double. And again, for junior age categories, the boys races would be longer the girl's in most events. This made no sense to me – while women are not quite as fast as men, we can absolutely match them for endurance. For the first two or three years, I did nothing and quietly hoped that next year it would be sorted out. Because this is the 21st century, and surely everyone realises that this sort of discrimination has got to change?
Nothing changed.
So two years ago, along with a small group of like-minded team-mates, I started to write to the organisers of national and regional competitions to ask for change. We quickly found that since 2017 the IAAF World Cross Country Championships has had equal races for senior men & women, but that the European Championships have yet to do this. In the UK, the Scottish National Champs are now equal for all age groups but the English, Welsh & Northern Irish champs are not.
And frustratingly, the World champs have only equalised the senior races, not the junior ones.
While the Spanish national championships have been raced over equal distances for seniors since 2016, many other cross country events in Spain have the same inequalities as in the UK.
From our tiny group, a national movement is growing under the #runequal name to try to bring about change. At the moment we are a very informal group, with no official leaders – anyone who cares about the issue can get involved.
So why have these things still not changed?
I have to admit that I was surprised at how much resistance there is to what seems to be to be a pretty simple idea – that men & women, and boys & girls in each age group, should be racing the same distances. Much of it comes down to emotional resistance to change.
Sometimes the arguments are simply to do with timetabling, such as that there is not enough daylight in the winter to run a longer race for women. Well, we're not necessarily suggesting that the women's race should be longer – just that the men's & women's races should be the same. They can be whatever works for that event. In some cases this might mean shortening the men's race, or meeting in the middle, as has happened at the World Champs.
They might say that these are the traditional distances, that we have been doing it like this for decades, and that there is no problem.
The traditions of cross-country are indeed at the heart of the sport, but the best traditions evolve with the times – sport is not a museum.
The argument that I find most demoralising is when some women themselves say that they couldn't, or wouldn't want to run any further. One of the things that women are brilliant at is supporting and encouraging each other. So when I hear my fellow women saying that they would be put off entering races if they were a couple of kilometres longer, that makes me sad.
100 years ago in the UK, when the Suffragette movement was campaigning for women to have the right to vote, some of the opposition came from other women, who felt that there was no need for them to vote as their husbands could represent them. We women need build each other up, and not keep each other in our place.
Running as part of wider society
Which brings me to me next point, which is that issues of equality and participation in sport do not exist in isolation from society as a whole.
We bring up boys and girls differently. We dress little boys in comfortable shoes and sturdy trousers, and little girls in dresses and pretty shoes. Straight away we are encouraging boys to be more active. It's hard to climb trees or kick footballs in shoes with no grip, or if you've been told not to get your clothes dirty. And then there are the messages on the clothes they are wearing – even from before they themselves can read them. Little girls wear T shirts with slogans like 'smile', 'sparkle', 'pretty little thing', mummy's little helper', 'princess', 'be kind' while boys may be given 'wild thing', 'roar!', 'here comes trouble', 'football star', 'adventurer'. Again, we are conditioning our girls to be pretty, passive, domestic and to think of others. Meanwhile, boys are out there charging around making noise, having fun, taking on the world without a second thought for anyone else.
If a boy likes to be in charge he's a natural leader, while a girl is bossy. A boy who always wants to win is encouraged, while a girl learns to step back and not look too pushy.
Already the seeds have been sown for a difference in participation in sport. And of course, for issues way beyond sport – if we bring up boys to think that the world is theirs to explore and conquer, while the girls are at home dreaming of unicorns and cupcakes, we create the conditions for gender inequality and sexual harassment - #metoo.
In adult life there are other issues to be overcome. Women carry out much more unpaid work than men, for example childcare and housework, and as a result they have less leisure time. They may also feel guilty about devoting time to something seemingly selfish, like training for a marathon. When my own children were young I was often asked if Daddy was babysitting, when I was out doing my own things. My husband was never asked this.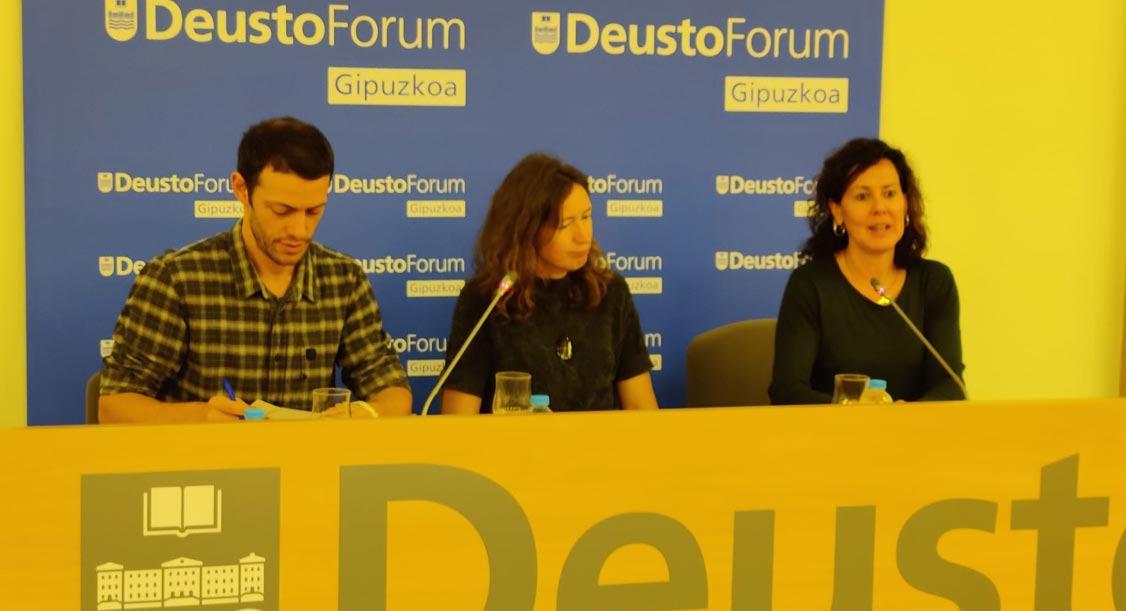 Participation vs Equality
Does it really matter if we are running the same distances? Isn't it more important that women are taking part in running in some form, rather than worrying about whether they are doing the same events as men? This is something we are often asked when campaigning for equal distances in cross-country. Is it women's interests to make the races longer if that means that fewer women will run?
Thankfully we do not have to choose between equality and participation. In Scotland the numbers of entries for the National Champs has continued to grow after the distances were equalised. In events where men & women already run the same distances, no-one is suggesting that we shorten the women's race in order to encourage women to enter.
Taking the long-term view, the health of athletics as a whole depends in its ability to evolve to reflect the values of 21st society. So that young athletes of both genders coming into the sport are equally valued, and equally encouraged to challenge themselves. To grow up fearless.
The next generation
Ultimately, we are trying improve our sport for the next generation. Every time a girl sees that she's not thought able to do as much as the boys, it damages her confidence. And conversely, it quietly re-inforces the boys' feeling that the sporting arena belongs to them. That sporting arena where male footballers are paid hundreds of times more than female players. Where male cyclists ride the Vuelta, the Tour and the Giro while women get a one-day race if they're lucky. Where over 90% of media sports coverage is about men's sport.
Sport should be empowering for everyone who takes part, at any level from grass-roots to elite competition. It should be about stretching, and not limiting each athlete's belief in what they are capable of. And it needs to make space for women – to welcome them on equal terms, not with strings attached.
It's not women vs men
Our campaign for equality is not a case of women versus men. Men are our allies and not our opponents, and many of the most active supporters of the campaign in the UK are male. Equality benefits everyone. Progress is possible so much more quickly when men stand up against sexism, just as white people must stand up against racism, and straight people must stand up against homophobia.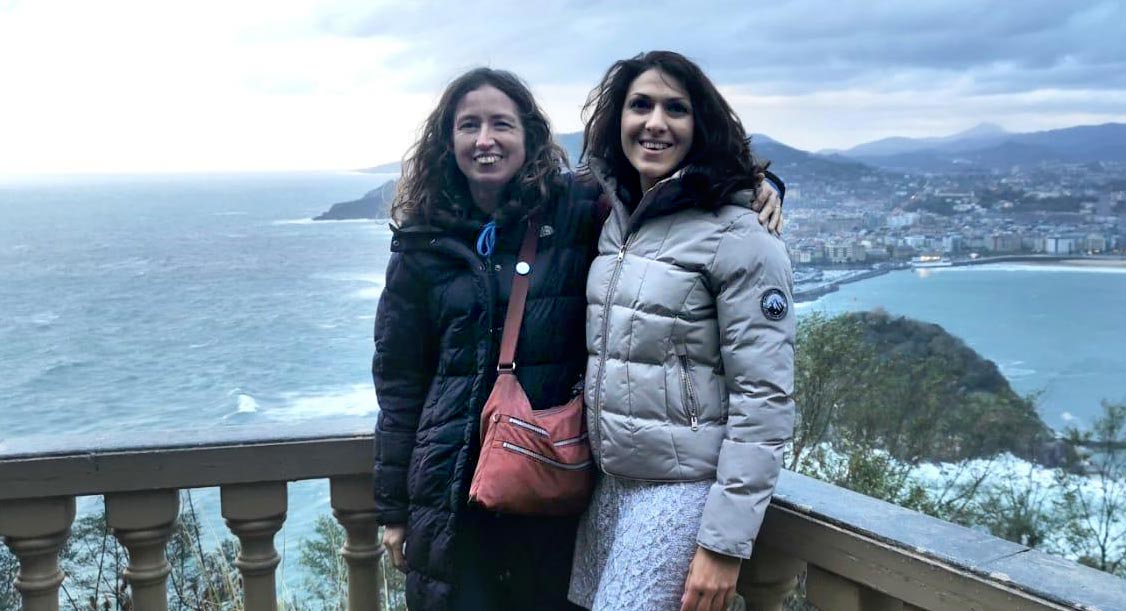 Success stories
So far I have been mostly speaking about the problems and challenges we face, but in the two years since the #runequal campaign started in the UK there has been plenty of success.
The most prestigious event to switch to equal distances is the Inter-Counties Championship, which is like a national champs for the whole of the UK, as it involves athletes from England, Scotland, Wales & Northern Ireland. It also serves as the trials for the World Champs.
Four English counties, Essex, Suffolk, Norfolk & Berkshire, and many more are considering.
Several leagues have made the change, including the Met League in London, whose members include many of the biggest London clubs.
What next?
On the equal distances front we will continue to use the momentum we have, and our ever-growing base of supporters and activists. Where possible, we work in dialogue with event organisers to move towards equality. We make sure runners at all levels are talking about the issue, and make sure that we celebrate and publicise events that are getting it right. Supporters of the #runequal movement will often have a green and purple ribbon pinned to their vest – these colours are taken from the suffragette movement.
The events we would really like to see moving towards are equality are the European Championships, and the English, Welsh & Northern Irish National Champs. Once these international & national events make the change it will be much easier for regional and local events to follow suit. We would love to see the World Champs equalised for junior athletes – again that would make it obvious for other events to match.
We would love to see athletes around the world pressing for similar changes. Spain is ahead of the UK in having equal racing for seniors in their National Champs, and it would be lovely to see Spanish athletes asking for equal distances at regional and local races.
Ultimately, the aim of the #runequal campaign is not to exist. We look forward to a time when it is taken for granted that men & women run the same races, and that all races have even numbers of both genders taking part, and that prizes are equal. And where no-one could imagine it being any different.
Behobia San Sebastián
I love what the organisers of the BSS are doing with 50/50/25 initiative. It is sending such a positive message to women runners that they are valued, and that they are capable. I am honoured to have been invited to take part, and thoroughly enjoyed the race, in spite of the terrible weather.
I've spoken a lot about children & young people today, and I think they will also be key to the success of 50/50/25 – many of the women who will run in 2025 are still children and teenagers now, so by making sure the message gets through to those young people that sport belongs to them, they will be looking forward to taking part when they are old enough.
I'll end on a personal thought – I wasn't into sport when I was young. But when I started to play the cello as a child, my mother, who had spent her teenage years riding ponies, saw what a wonderful thing it was to play music, and learned to play herself. And we would play duets together. An amazing thing to do together as a mother-daughter pair. Maybe some of those girls and young women who discover a love of running will inspire their mothers to run too, and their fearlessness will pass up and down the generations.