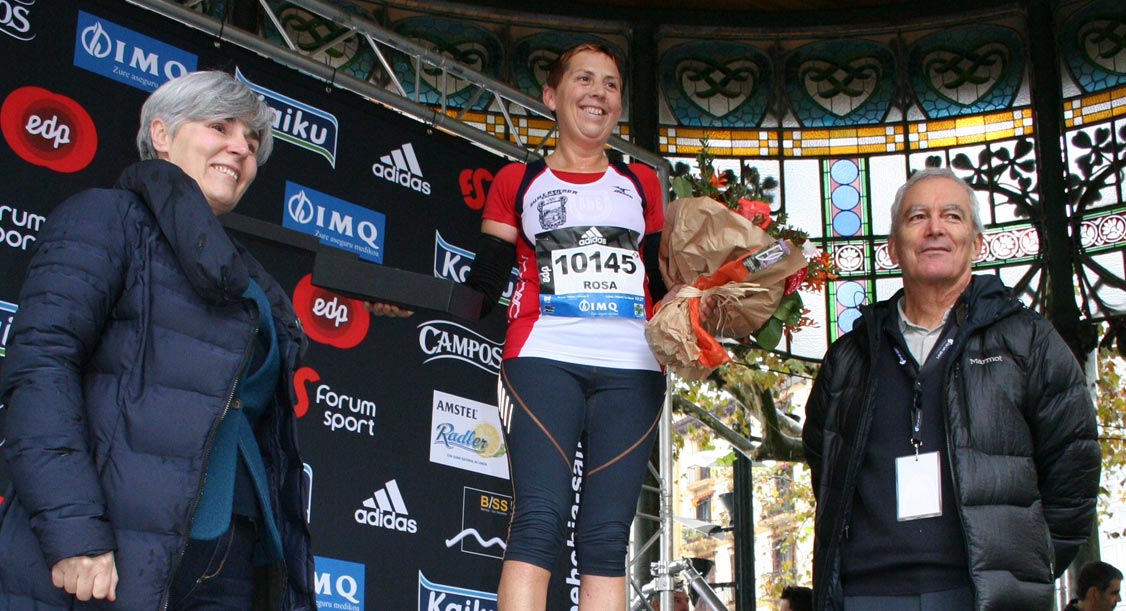 In 2018 we made a commitment to a cause that deserves the effort, looking at the ambitious challenge of make women's participation to be the 50% in the race in 2025.Through a process articulated in a 7-year work plan, with concrete and differentiated actions for each of them, we aim to promote the social change necessary so that in 2025, the female participation of the Behobia-San Sebastian reaches half of the registration fee.
We are convinced that the Behobia-San Sebastián can become a reference for girls, young people and all women in general and this is important to boost sports practice throughout their life.
For this it is important that they have references, real models to follow, and in this sense, if in the last edition 2018 we had the presence of Kathrine Switzer, first woman to run an official marathon (Boston, 1967), in 2019 we had , among others, the participation of the English runner Maud Hodson, also a fighter for women's equality in sport.
In addition, we made female participation more visible with the early departure of the group of women aspiring to victory.
| Year | Total participans | Total femmes | % |
| --- | --- | --- | --- |
| 1999 | 9101 | 859 | 9,44% |
| 2000 | 8801 | 969 | 11,01% |
| 2001 | 9020 | 928 | 10,29% |
| 2002 | 9925 | 1078 | 10,86% |
| 2003 | 10464 | 1050 | 10,03% |
| 2004 | 11502 | 1378 | 11,98% |
| 2005 | 11750 | 1357 | 11,55% |
| 2006 | 12509 | 1663 | 13,29% |
| 2007 | 15439 | 2116 | 13,71% |
| 2008 | 13824 | 1962 | 14,19% |
| 2009 | 18444 | 2743 | 14,87% |
| 2010 | 20809 | 3116 | 14,97% |
| 2011 | 23453 | 3795 | 16,18% |
| 2012 | 25581 | 4557 | 17,81% |
| 2013 | 28342 | 5248 | 18,52% |
| 2014 | 29892 | 6092 | 20,38% |
| 2015 | 33950 | 7727 | 22,76% |
| 2016 | 31276 | 7111 | 22,74% |
| 2017 | 30912 | 7384 | 23,89% |
| 2018 | 30775 | 7534 | 24,48% |
| 2019 | 33536 | 8700 | 26,00% |